Category

All Mtn Off Trail/Powder

Snow Types

Powder, Crud/Variable, Groomed (Soft), Spring Corn

Terrain

Bowls, Trees, Chutes, Open Runs/Trails (w/ Soft Snow)

Flex

Balanced flex allows skiers to charge groomers and big terrain, yet have enough flex in the tip and tail to remain playful across the mountain and float through powder.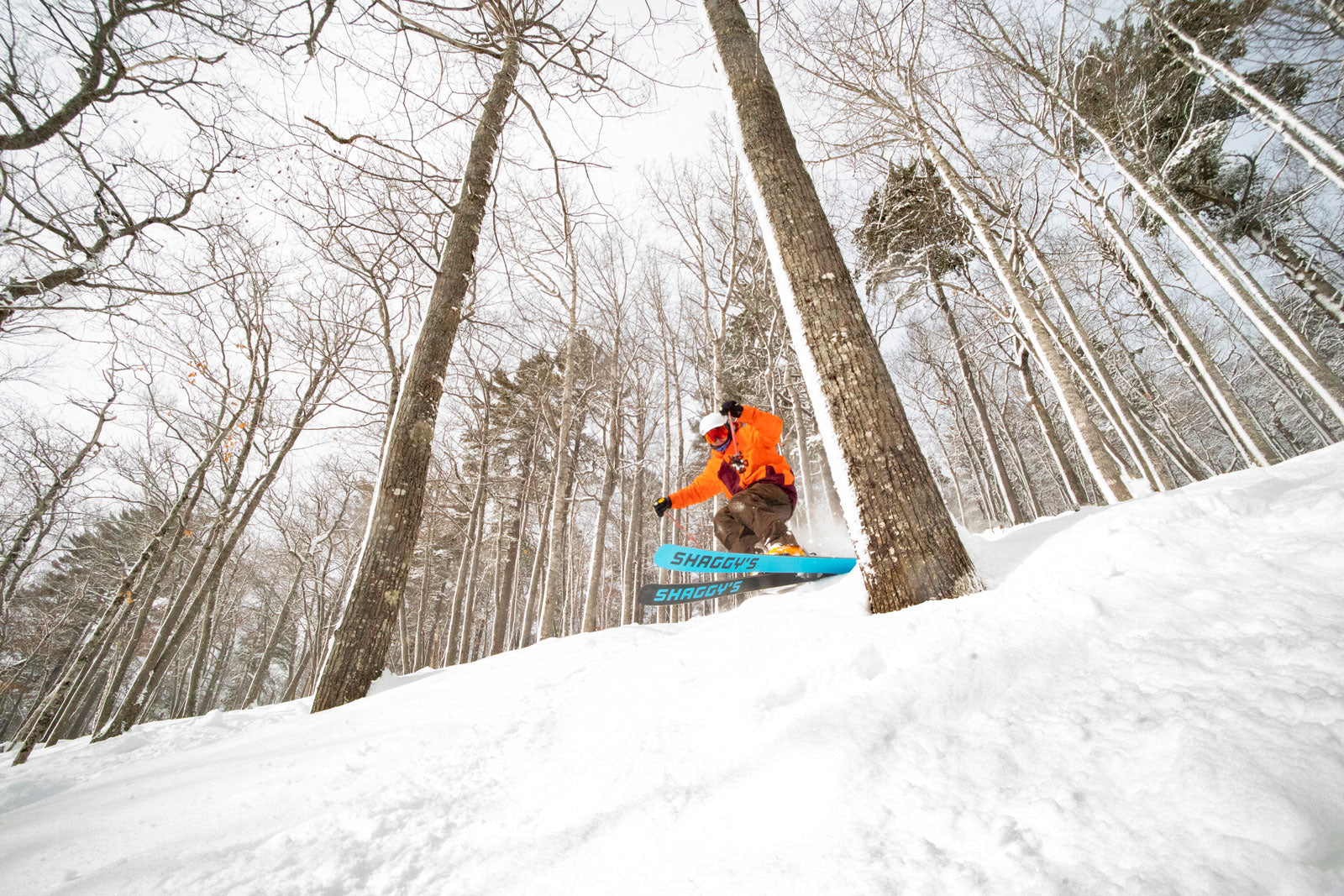 Details
The Ahmeek 115 is a powder ski that can do more than just float over feet of freshies. When you need to blast through crud at mach one and lay down big arcs on corduroy to get to the powder, the moderate flex provided by the ash and poplar core will allow you to do just that. It's definitely not a noodle, like some skis this wide often are. The Ahmeek 115 is for those who want to charge big lines and take full advantage of opportunities for face shots.
Specs
| | | | | |
| --- | --- | --- | --- | --- |
| Length (cm) | Dimensions (mm) | Turning Radius (m) | Mounting Setback (cm) | Weight (g/ski) |
| 186 | 146-115-132 | 20-22.5 | -6.0 | 2250 |
| 180 | 146-115-132 | 20-22 | -6.0 | 2100 |
| 174 | 146-115-132 | 18-20 | -6.0 | 2050 |
Features
Deep tip rocker maximizes flotation in powder and busts through crud.
Full twintip tail allows the Ahmeek 115 to maneuver easily in the tightest trees.
Camber Pockets molded within the overall minimal camber triple the turn initiation contact points for maximum edge grip on groomers.
Hybrid MidLight construction combines ash and poplar hardwoods with carbon fiber and lightweight triaxial fiberglass for weight reduction without sacrificing pop and energy.

Balanced flex allows skiers to charge groomers and big terrain, yet have enough flex in the tip and tail to remain playful across the mountain and float through powder.

Rounded mini-cap top edge with full-height UHMW sidewalls are bombproof and provide a sleek look.
Build Notes
Ride Notes: Burly and rugged enough for the heaviest lines, yet nimble enough to blast the trees and float effortlessly in powder.
Design Needs: Maximum flotation in powder - stiff underfoot - twin tail - has to rip on corduroy.
Purpose: Build a true powder ski that is extremely stable and still versatile enough to charge on groomers/bust heavy crud.
Logan Stanley
Skier Level: Expert | Ahmeek 115 Length: 174cm | Height: 5'8"
Primary Ski Area:
Wasatch Backcountry and Ski Areas
The Ahmeek 115 in The Wasatch
Everyone's favorite all-mountain/pow ski finally made it out to the Wasatch Range for a full season that is still underway. Although the laps on the Ahmeek 115 at Cab, Boyne, and Mt Bohemia were fun, I had a feeling they hadn't quite seen their full potential yet. I had even rigged them up with shifts (basic, I know) to use them as my primary backcountry setup for the season. Yes, my setup isn't the lightest but, typical shift issues aside, I like the elasticity and feeling of a downhill binding over a tech binding and I'm not a gram counting nerd (yet).
After 74 days on snow so far, I think it's safe to say that versatile is an understatement. I've ridden on many different snowpacks now - from skied out garbage to hardpack, to corn, to dust on crust, to waist-deep pow, and I still struggle to find any limitation. It goes without saying that it will float on any sort of pow, but the stability I've been getting out of them on hardpack is absurd. I thought I was going to have issues skiing tighter, steeper chutes with them, however, I've come to find that snappy turns are a breeze, and the added stability on bigger lines makes them a go-to for any situation.
Beyond the versatility, the ski is just downright fun. If you want to have a good time in all different conditions grab yourself a pair - or not - it's your choice, not mine.
*Disclaimer - Honest review; written by a Shaggy's ambassador.
Primary Ski Area:
Lee Canyon
Best pow skis I've skied.
Finally got to get these out on a pow day...
I've been skiing 47 years, and these are A DREAM!! Was so impressed by the float while gliding through a foot of new powder, while keeping control and stability.
As the pow turned to crud, I was really surprised by how well these handled it. The flex pattern and the camber give you incredible control as you move from deep, to hard pack, and through everything in between, while the rocker keeps you on top, and releasing turns easily.
Was nice to still be able to put these on edge later in the day as well.
I cannot tell you enough how amazing these skis are, and how happy I am I went with Shaggy's!
Each call with Jeff was amazing, like I was their favorite customer... And the company chose to stop making skis to make ppe during the pandemic... So, great people, integrity, an outstanding product, and doing what's right... How can you go wrong?
I'm already thinking of what I want for a true groomer ripping custom ski!
(and let me tell ya... These skis were the talk of the lift.. They look just as good as they handle!)
Primary Ski Area:
Breckenridge
Ahmeek 115
WOW! This a super fun ski! I have been telemarking for over 30 years and have been on lot of skis. These skis rip! I was surprised at how intuitive these skis are. They initiate turns effortlessly and are surprisingly quick edge to edge for a ski this size. Nice predictable even flex that holds an edge really well and also floats in pow. It fits really well into that resort/pow category. A nice quiver of one for Western skiers. Get a pair!
Primary Ski Area:
Cascades
In a league of their own
The versatility of these skis are shocking. I have demo'd a lot of wide all mountain skis the past few seasons and the ahMEEK 115s are in a league of their own. I bought these skis untested and was a bit skeptical of the proclaimed versatility. After donning these, I immediately hooked on their performance. The first day out on them was mostly packed powder over scattered sastrugi with some fresh powder refills in the trees. The playfulness and stability really surprised me for such a wide ski in mixed snow conditions. Fast forward to the next two outings; the past weekend has been dumping powder in the Cascades (3 feet in 3 days) and all I can say is I was grinning from ear to ear while ripping deep runs. The floatation of these are amazing and effortless. I really like the nimble feel yet sturdy solid performance these skis offer; these will be my dedicated powder/touring skis. I was on the fence on upgrading my daily driver ski choice between a set of Salomon QST 106 or Rossignol Soul 7 HD, but after riding the ahMEEK line, I will be looking to go with the ahMEEK 105s.
Primary Ski Area:
British Colombia (mostly backcountry)
WOW!!! This is what I have to say.
Bootjack 115 Wilderness Collection
Where: British Colombia, Canada (mostly backcountry)
I recently bought a pair of Shaggy's skis Bootjack 115 Wilderness Collection. I had the chance to try them in various snow conditions such as: deep powder, icy conditions, rainy conditions, tight trees and all the way to spring skiing. WOW!!! This is what I have to say.
I've had the fortune to start skiing at age 3 year and for the first time, I took the plunge and ordered a pair of skis from the internet without physically trying or seeing them. I have to admit that I was nervous, but since Shaggy's was offering a 5 day satisfaction guarantee, it put me at at ease.
I mostly chose the Bootjack because I was going on a backcountry ski trip to British Columbia Canada where I was expecting deep Powder and large terrain. I am pleased to report that the Bootjack performed very well! Even at low speed, the pronounced angle of the rocker tip kept me on top of the deep snow making the tight turns easy in between trees. There is no better feeling than to make big turns in deep powder on good quality skis.
I also had a chance to ski at a resort where the conditions were icy in the morning and soft in the afternoon. The skis performed relatively well due to the camber and the camber pocket. The skis felt strong and stiff when I was on edge maintaining wicked speeds on big GS turns. Surprisingly enough, I was able to ski comfortably in the moguls. I tried a lot of powder skis, but I never found one that is as versatile as the the bootjack!
I find the Bootjack is a perfect skis for someone who wants to skis powder, but also wants to have fun skiing groomed trails. I added the Limited Wilderness Collection package to the Bootjack only because I found the graphics amazing! The only down side to the Wilderness Collection is it brought a lot of conversation on and around the ski lifts.....not the best for anyone who prefers not to socialize. LoL
Pascal J
Family, Friends, Fun
We're a Different Kind of Ski Company
At Shaggy's Skis, we believe in creating unforgettable memories on the slopes with loved ones, and our skis are designed to enhance those experiences. Our dedication to building strong relationships and fostering a sense of community sets us apart from the pack.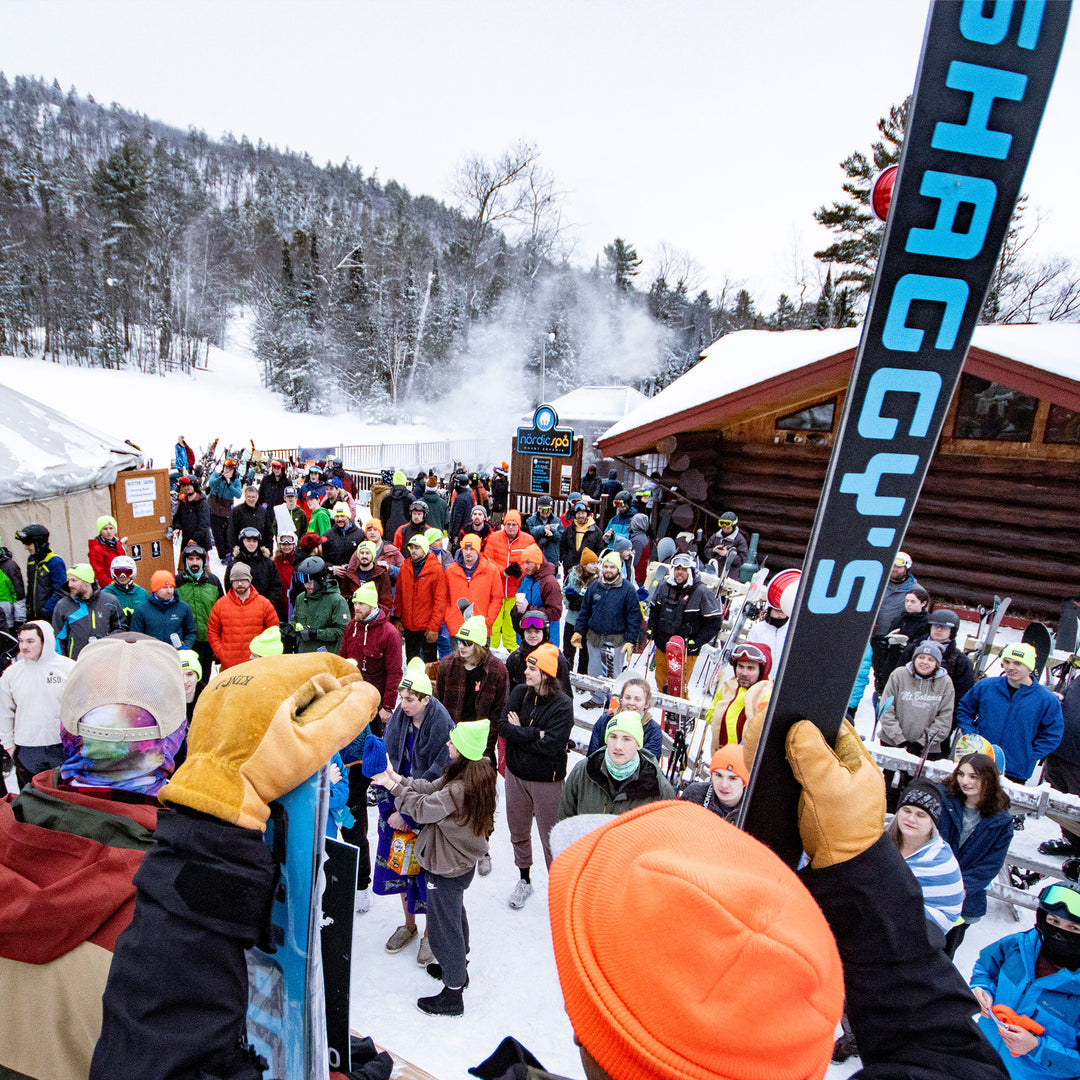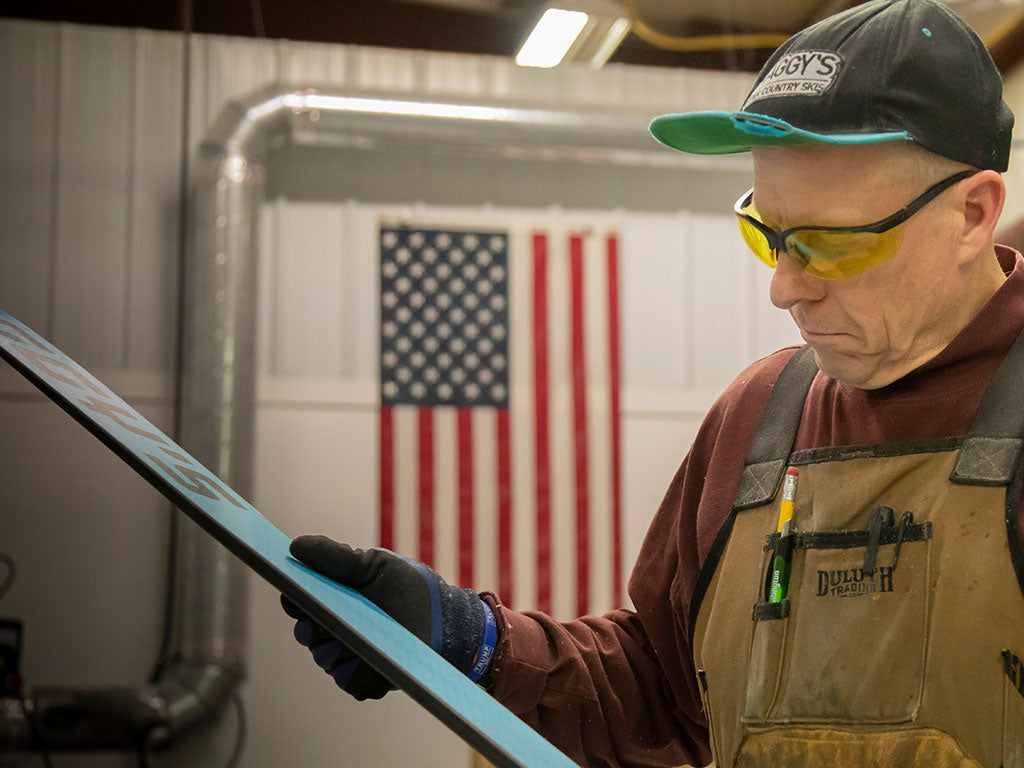 Superior Craftsmanship and Modern Equipment
American Made
At Shaggy's, we combine passionate craftsman with modern equipment to produce the highest quality skis for you, without limitation.