Category

Backcountry/Off Trail

Snow Types

Powder, Crud/Variable, Spring Corn

Terrain

Bowls, Trees, Chutes, General Off-Trail

Flex

Stiff and Powerful
Phoenix 110 Details
Days spent earning your turns in the backcountry are epic - provided you have the right setup. The Phoenix 110 is our purpose-built backcountry ski, with a host of features that appeal to skiers who want to move fast and light uphill while still being able to charge on the way down. The pure carbon construction and full poplar core are very light without sacrificing stiffness, and the 110 mm waist provides plenty of float. Don't settle for a featherweight pair of skis that compromise downhill performance - go with the Phoenix 110.
Specs
| | | | | |
| --- | --- | --- | --- | --- |
| Length (cm) | Dimensions (mm) | Turning Radius (m) | Mounting Setback (cm) | Weight (g/ski) |
| 186 | 138-110-126 | (Variable tip to tail) 21-25 | -8.0 | 1825 |
| 180 | 138-110-126 | (Variable tip to tail) 20-24 | -8.0 | 1780 |
| 174 | 138-110-126 | (Variable tip to tail) 18-22 | -8.0 | 1675 |
Features
Pure Carbon construction combines an ultra-lightweight biaxial carbon fiber with a slightly heavier unidirectional carbon fiber and a poplar hardwood core to create an exceptionally lightweight and responsive ski. *Please note the clear windows in the ski graphic will show carbon fiber rather than wood, as carbon is opaque.
Full-height UHMW sidewalls bonded with 8 layers of rubber are bombproof.
Clearview topsheet shows the real carbon fiber in the ski.
Notched tails keep your skins on straight when ascending.
Primary Ski Area:
Mt Baker Ski Area and Backcountry
Super Light Hard Charging Skis
I can absolutely say I love this ski!! As I was born and raised in Michigan with ski racing being part of that time in Michigan, this ski can charge hard in the powder, power through crud, and hold an edge on the groomers. I have a Marker Kingpin M-Werks 12 binding mounted on it which makes the ski even lighter for touring. The combination of this binding and ski gives me the option to use this ski 100% of the time in resort and in the backcountry. Highly recommended for anyone looking for that combination.
Primary Ski Area:
aspen highlands/snowmass
Phoenix 105 174 cm king pins
I got these skis 2 years ago, and the only thing I would change is the binder- I would go salomon/armada shift. The king pin isn't up to how hard you can push this ski. Shred groomers in the morning at 65 mph and then skin highlands bowl for the wind blown after lunch. You can charge seriously hard on these skis. Equally at home in the tight trees of bohemia and the like. As an expert level skier I can make these work and enjoy them in almost all conditions/situations. Not quite big enough under foot for the real deep (3'+) but they get it done (and Im the only cheap idiot to not get pow skis on the epic day) .
The most rippin' of carbon sticks Iv'e ever skied
Holy wow! When I first unwrapped these puppies from their shipping container I was smitten. I went with the custom artwork and matte finish. The feel of the top sheet is smooth and can distract you from the mountain views beware! Not only are they beautious, but they RIP! I was very impressed with how light the carbon ski is in relation to its ski ability. My previous Dynafit skis are your typical ultralight ski-mountaineer's choice and my Phoenix 105 are lighter AND ski better. GO Michigan! I have the 174cm. I can point them in pow and wiggle a tiny turn. These are my go to Utah powder ski. I even ride them in-bounds!
Skis for Skiiers
Shaggy's makes the skis you want, even if you didn't know you wanted them yet. I love my original pair of Shaggy's 175's (c. 2009?), and rarely want to ride skis made by anyone else. Wide, stiff, and with ample sidecut, they have been my go to pair for all conditions since I stopped smashing plastic poles.
I got to ride the Phoenix 105'sx184 mounted with Axl bindings and tRace boots for a couple of early spring laps on a closed ski area in VT. Conditions were something just short of boiler plate at the summit, but softened up to a lovely corn for the bottom two thirds. They climbed easily, and managed well on the re-frozen crud at high altitude, especially for their width, but really shone when the snow softened on the descent. Shaggy's is building a reputation for making skis that handle the snow people actually ski, and the Pheonixes do not disappoint. I was somewhat concerned that the 184 might be a lot of ski to freeheel on, but their lightness and early rise makes them feel more like my trusty old 175s, and made me glad they weren't shorter. The ski's tips and tails are forgiving, but the cambered section is more than stiff enough to perform when I hammered down with the Axl/tRaces.
Verdict: These skis rock. Uphill. Downhill. Ice. Corn. Fixed heel or Free.
Family, Friends, Fun
We're a Different Kind of Ski Company
At Shaggy's Skis, we believe in creating unforgettable memories on the slopes with loved ones, and our skis are designed to enhance those experiences. Our dedication to building strong relationships and fostering a sense of community sets us apart from the pack.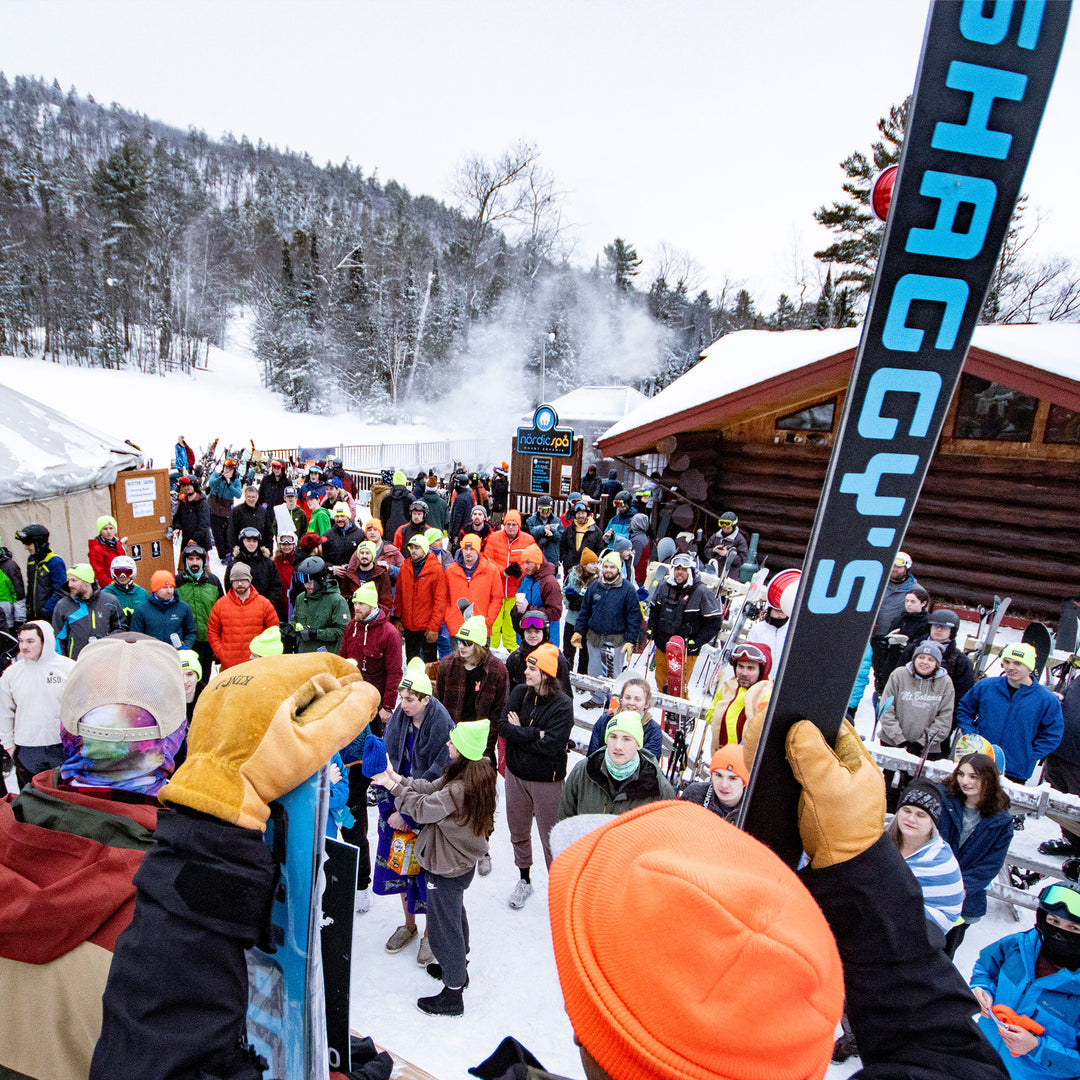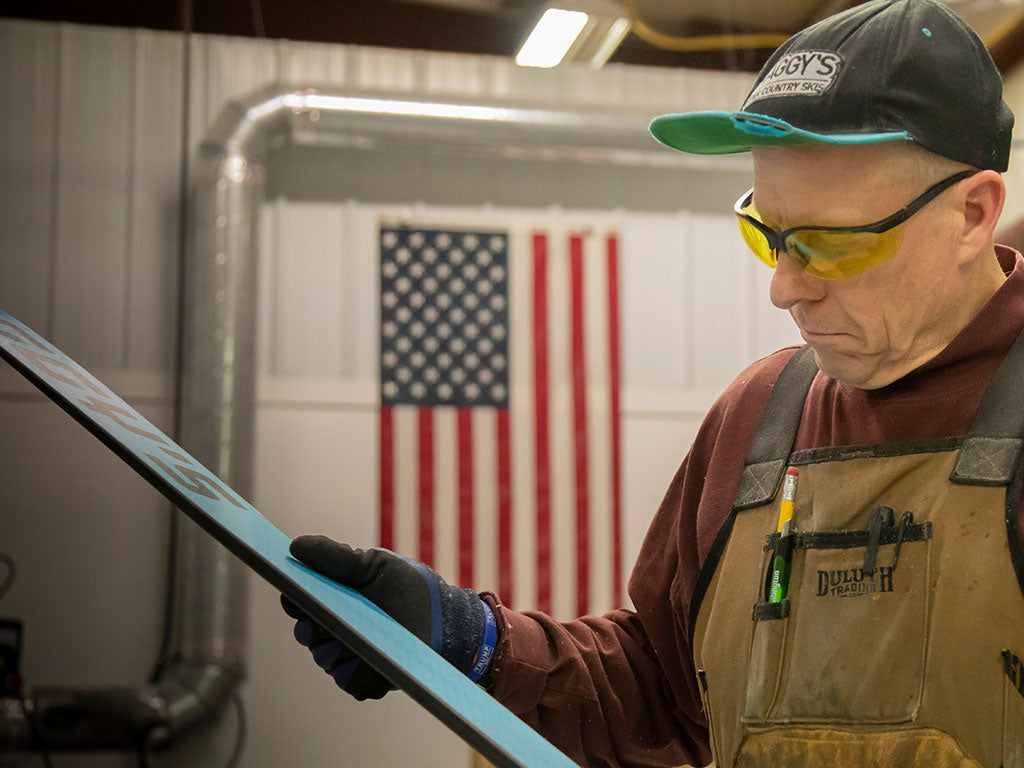 Superior Craftsmanship and Modern Equipment
American Made
At Shaggy's, we combine passionate craftsman with modern equipment to produce the highest quality skis for you, without limitation.