Category

All Mountain On & Off Trail

Snow Types

Groomed, Crud/Variable, Powder (boot deep), Spring Corn, Ice

Terrain

Open Runs/Trails, Moguls, Gladed Trees

Flex

Balanced, moderate stiffness underfoot for grip, softer tips for maneuverability and playfulness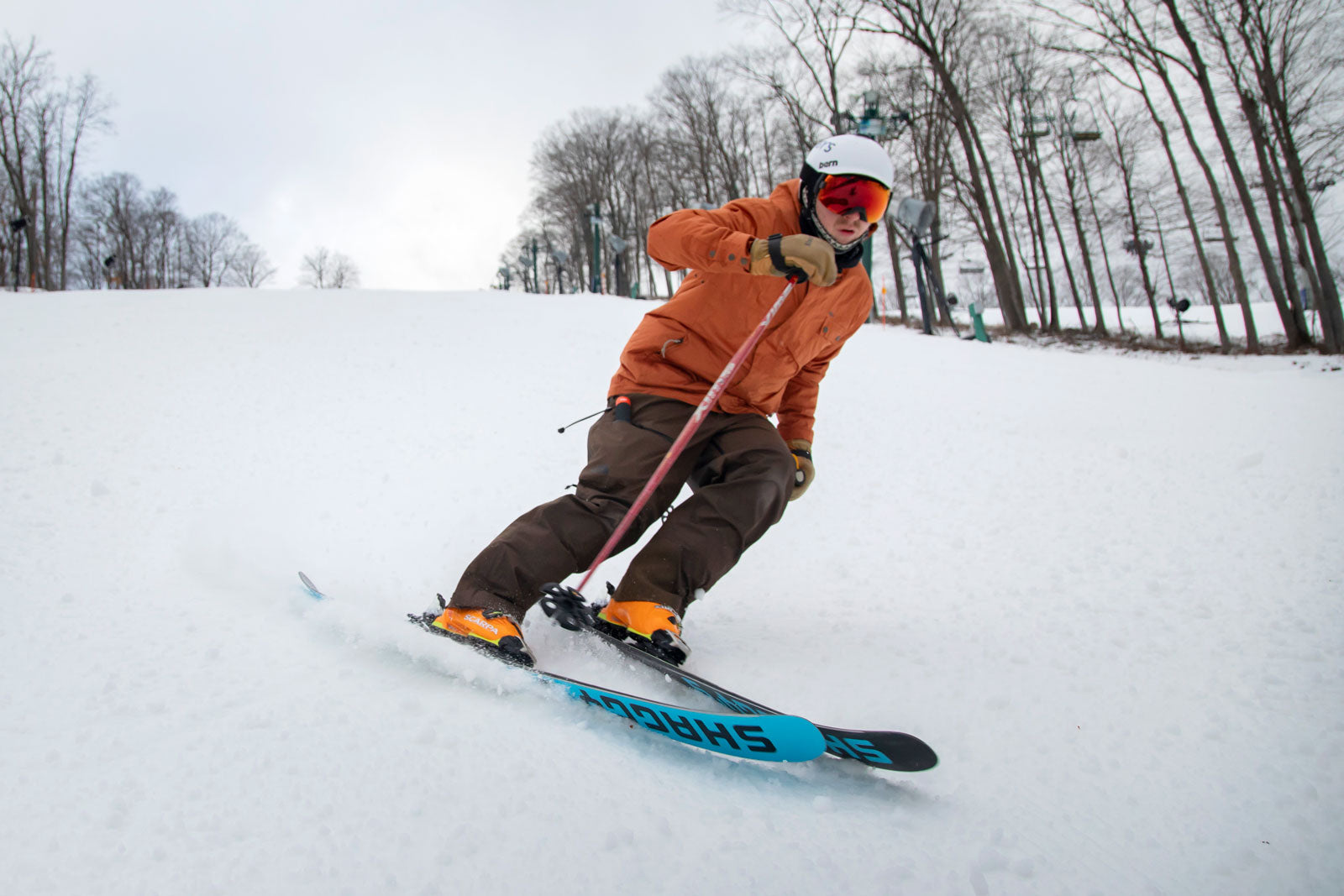 Details
The Ahmeek 85 is made for skiers looking for a playful ski to take all over the mountain when you haven't seen fresh snow in weeks. It's narrow waist and camber + camber pockets underfoot provide you with confidence to hold an edge when the snow is icy and firm. Heading for the bumps? Its moderate flex is forgiving and easy to whip around at both high and low speeds. Heading off the trail? Like it's big brothers (Ahmeek 95/105/115), the Ahmeek 85 features a full twin tail for quick maneuverability in the tight trees. 
When you want a ski to keep things interesting and explore the mountain but don't hit much fresh snow, stop shopping here at the Ahmeek 85 and start your best winter yet.
Specs
| | | | | |
| --- | --- | --- | --- | --- |
| Length (cm) | Dimensions (mm) | Turning Radius (m) | Mounting Setback (cm) | Weight (g/ski) |
| 186 | 119-85-104 | 20-22.5 | -7.0 | 1975 |
| 180 | 119-85-104 | 20-22 | -6.7 | 1860 |
| 174 | 119-85-104 | 18-20 | -6.4 | 1845 |
| 168 | 119-85-104 | 17.75-19 | -4.9 | 1750 |
| 162 | 119-85-104 | 16-18 | -4.9 | 1650 |
Features
Tip rocker maximizes flotation in powder and busts through crud.
Full twintip tail allows the Ahmeek 85 to maneuver easily in the tightest trees.
Camber Pockets molded within the overall camber triple the turn initiation contact points for maximum edge grip on hardpack.
Hybrid MidLight construction combines ash and poplar hardwoods with carbon fiber and lightweight triaxial fiberglass for weight reduction without sacrificing pop and energy.

Balanced flex allows skiers to charge groomers and big terrain, yet have enough flex in the tip and tail to remain playful across the mountain and float through powder.

Rounded mini-cap top edge with full-height UHMW sidewalls are bombproof and provide a sleek look.
Common Questions
What length should I get?
The Ahmeek 85 has a rockered tip and a full twin tail. If you are between lengths, size up for a more stable ride, size down for more maneuverability. Check out our size chart for more info.
What bindings should I get?
You can use any binding on the Ahmeek 85 as long as the brake width is at least 85mm wide. We run Marker Griffon bindings on our demo skis. Visit your local ski shop for bindings and mounting.
What can I customize?
Just about anything from graphics to construction! Build your own custom pair at www.skishaggys.com/products/custom-skis
See all the options at www.skishaggys.com/pages/custom-skis
Have Questions? Get a consultation
Are they tuned and waxed?
Skis come tuned with a 1° base edge bevel and a 2° side edge bevel and a slight tip/tail detune. The skis are waxed with a universal temperature wax to get you going.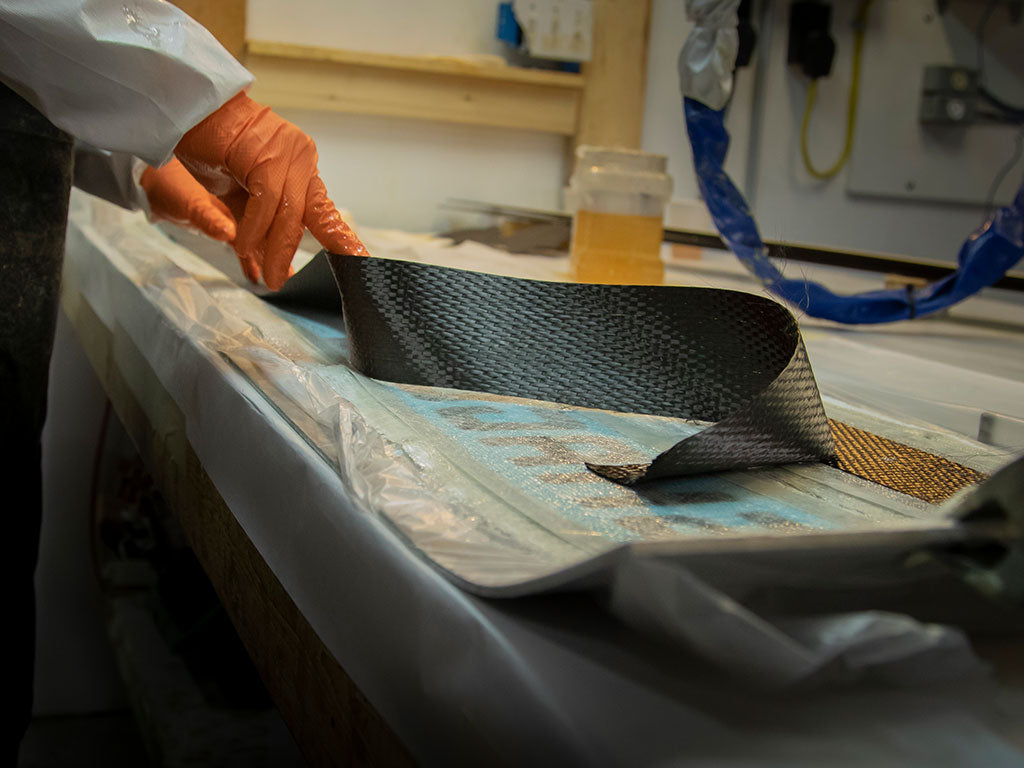 Premium Materials
Core
Laminated ash/poplar hardwood: Long grain premium white ash and tulip poplar is hand selected and cut into full-length strips. Strips are individually flex indexed and laminated together symmetrically. Each laminated core is CNC milled to a precise thickness profile developed for each model and length.
Composites
Unidirectional carbon fiber strips below the core, lightweight triaxial fiberglass above and below the core, fiberglass binding mat underfoot. Rubber bonding strips placed along edges, sidewalls, and ends for rock solid bonding.
Bio-Based Epoxy
Entropy Super Sap® epoxy contains 28% bio-based content and is specifically designed for skis. It's formulated for high-strength and impact resistance, which creates a durable, tough, and lightweight composite.
Sidewalls
Full-height UHMW - the same raw material as your base, bombproof and double chamfered for reduced swingweight. A rounded mini-cap top edge rolls over the sidewall to protect your topsheets.
Topsheet
Clearview gloss nylon with sublimated graphics and transparent windows to the wood core. 
Base + Edge
1.4 mm CNC Knife Cut 4001 Race Grade Durasurf sintered UHMW. 2.2 mm over-sized and heat treated edges take a beating.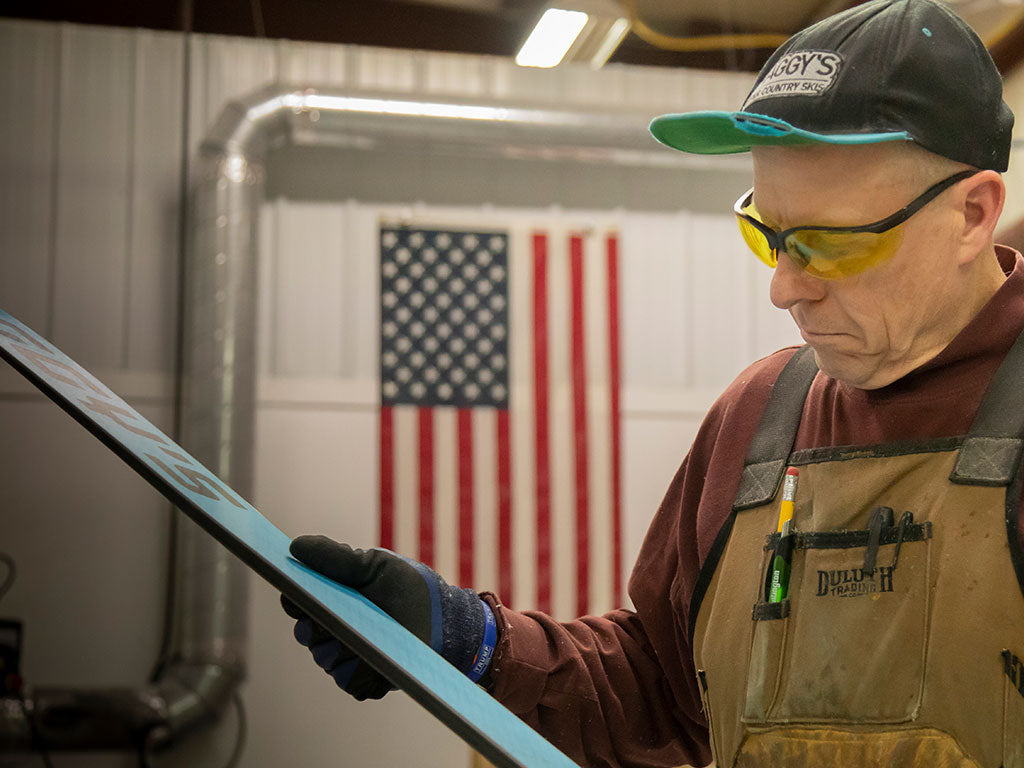 Why Shaggy's?
Every single pair of Shaggy's is built at our small, family owned ski factory in Boyne City, Michigan. We source all of our materials as locally as possible and take no shortcuts during the build process, using the most modern equipment and methods to carefully craft our skis.
Cutting-edge technology, premium materials, and limitless customization are worthless if the end product isn't built with passion. A love for skiing is a prerequisite for each and every employee at Shaggy's. We design, prototype, and test every ski model before it's made available to you, and that passion for skiing is clearly evident in our end product.
That exacting detail doesn't end with your new skis; your experience as a customer is paramount to us as well. Our team is always happy to offer assistance - before, during, and after your ski purchase. Find out for yourself why we refer to our customers as the Shaggy's Family.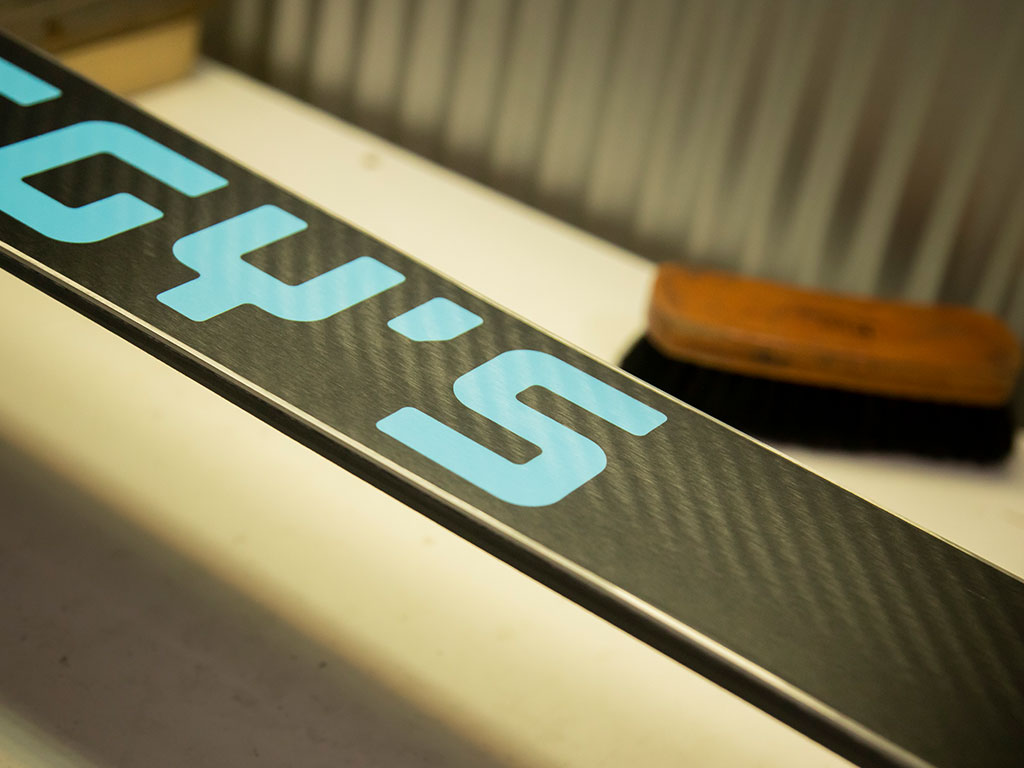 Race Tuned
Tuned in house with a state of the art Wintersteiger Scout Plus, the same automated grinder used by the US Ski Team.
Precision Fit
Every ski part is CNC milled or cut and then laminated in solid aluminum tooling for a more precise fit and longer lasting performance.
Hand Selected and Flexed Hardwood Cores
Each piece of hardwood is individually flex indexed and laminated symmetrically for a better, more consistent ski core.
Get Yours
Loved using my Shaggy's Limited Series Ski Patrol skis. Not only could I ski everything I threw at it, its design is perfect for getting to patients, sled transportation, and anything else needed for patrol duty. I highly encourage you to get your's today. You won't be disappointed.